Compression molding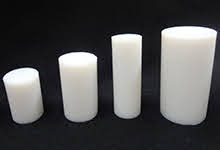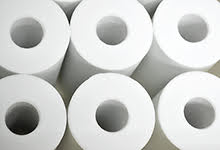 This technique compresses the material to make to molding.

Regularly, resins are melted and then poured into the mold to make the product. However, in the case of PTFE this technique cannot be applied.
PTFE is a thermoplastic resin that has a high melting point. When reaching this melting point, the material color turns almost transparent but it does not liquidize completely making it difficult to use techniques such as injection molding.

In this case, compression molding technique chosen, which is also popularly used for molding metals and cermics.
PTFE compression molding process
| | | |
| --- | --- | --- |
| 1 | Raw material input | the powder material is input into the mold |
| 2 | Preforming | the powder material is compressed from up and down. |
| 3 | Firing | the material is heated up till the point it melts so that later its particles are welded together. |
| 4 | Cooling | the degree of crystallinity is adjusted while cooling. |
To produce a high quality molded product, the choice of the raw material, the shape of the molding, the size, the preforming conditions, the firing conditions are extremely important.
In the case of PTFE, a technique called hot coining is popularly used.
It consist in putting the material into a secondary mold after the firing process, to perform the cooling under pressure.
The types of compression molds we have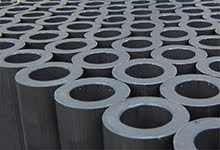 We process the Fluorocarbon resin from its powder state using the compression mold method.
We adjust all the conditions for molding based on the customer needs.
Compression molding can produce sizes up to 100L.
In the case of dry-bag pressing or isostatic molding, sizes up to 300L can be produced.
We can work on the regular material as well as some customized materials upon request. Please contact us if you have any specific inquiry.
Find out about dry-bag pressing here
Find out about isostatic molding here
原料別圧縮素材表と用途例  ←翻訳無し
Request
Type
Application
A sealing material or accessory that has excellent chemical resistance , wear resistance, heat resistance

Virgin type
bellows, packing, gasket, etc.
A material that has excellent flexibility, creep resistance, stress crack properties, chemical resistance permeability and thermal weldability
Modified type
bellows, diaphragm, ball sheet, etc.

A material that has strong chemical and electrical properties and excellent creep resistance, mechanical properties and abrasion resistance.

Glass fiber (filling)
packing, gasket, valve sheet, bearing, etc.

A material that has excellent compression creep, creep resistance, thermal conductivity,
chemical resistance and alsohas low initial wear and starting resistance.
Graphite (filling)
gasket, packing, etc.
A material that has excellent creep resistance, compressive strength, dimensional stability, and also has good thermal conductivity.
Bronze (filling)
piston ring, bearing, seal, etc

A material that has excellent abrasion resistance, friction and creep properties.
Carbon fiber (filling)
bearing, mechanical seal, bearing pad, piston ring, etc

A material that is a soft metal than can be used under water.
?????????????? (filling)
bearing, piston ring

Please let us know about your application. We will offer you the best choices based on your needs.
We have the expertise and a broad network concerning compression molding that makes us extremely qualified to provide the best solution in this field.